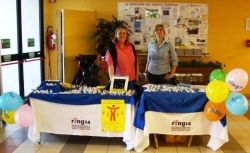 BECOME A VOLUNTEER
What does it mean to be a volunteer?
Being a Ring14 volunteer means spending your time and energy for the promotion of the health of our kids who are hit by the chromosome 14 rare genetics syndromes.
What can I do to help?
There is a lot you can do to support Ring14: You can help us in the office organizing what we call solidarity dinners meant to gather funds, in translating foreign language documents of the Association or our website, assisting us in computer matters and etc…..
How much time will be required to volunteer?
The timing depends on your availability. You will choose how much time you are able to spend helping Ring14 according to your family and work needs. If you can even give us just one minute in a month to tell your family and friends about us, then you have helped Ring14.
Do I need any previous experience to volunteer?
There is no need for previous experience to volunteer. What we do need is your enthusiasm, engagement and motivation; however, any kind of background experience could certainly be useful in order for you to carry out the job.
Can I do volunteering on my own or do I need to involve other people?
Some of the jobs we propose can be done on your own; however, if you can help us create a group of contacts for the job, this would allow us to strengthen all our solidarity activities.
Who can I contact?
Just fill in the attached form and send the request by mail to:
info@ring14.it
or a fax to: +39 0522 421037. For any information please ask for Alessandra Vighi (+39 348 9500941).
Documents
› Fill in the form (41 KB)
Torna in alto