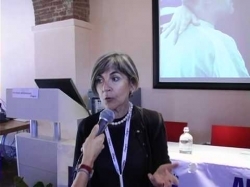 RING14 SYNDROME: TOWARDS A DETAILED GENOTYPE-PHENOTYPE CORRELATION
PERSON IN CHARGE OF THE RESEARCH:
Professor Orsetta Zuffardi, University Professor of Genetics at the University of Pavia cooperation with Professor Nancy Spinner, Director of the Children's Hospital of Philadelphia.
DURATION: 2 YEARS, FROM OCTOBER 2013 TILL OCTOBER 2015
SPONSORED BY : TELETHON ITALIA
We wish to study individuals affected by a 14q terminal deletion or with a ring chromosome 14 [r(14)]. Like with many other subtelomeric chromosome deletions, the phenotype caused by the 14q terminal deletions is arising very slowly.
We have the possibility to study a significant number of cases of affected individuals thanks to the Associazione Ring14, using the best molecular techniques in order to get to a detailed genotype-phenotype correlation. We wish to clarify an apparent paradox whereby patients with r(14) would have a more serious phenotype than patients with terminal deletions of apparently bigger sizes than the ones contained in the rings.
The seriousness of the phenotype of the r(14) syndrome is basically due to intractable and recurring epilepsy, often with more episodes in a day. Out of the few thoroughly analysed cases, this condition seems to be lacking when the deletion of 14q distal can be found in linear chromosomes. The situation is similar to the one of epilepsy associated to ring 20 chromosomes.
We postulate that the serious condition found in patients with r(14) can be caused by a minimal loss in the distal 14q region which should have in any case a controlling influence on one or more genes ahead, that would thus be overexpressed.
Our approach is to test the DNA of cases with 22 linear distal deletions and 33 rings with high resolution array-CGH platforms with subsequent sequencing of the last 6 Mb of 14q with of new generation sequencing. Thanks to the analysis of the clinical database set up by the Associazione Ring14, currently being defined, we will be able to perform very detailed genotype-phenotype correlations thus helping discover the clinical features of patients with a 14q distal deletion. So we should determine if epilepsy is basically due to the loss of a particular 14q region. Moreover we will try to perform the expression analysis on the lymphoblastoid cell lines of r(14) patients and do controls to check any possible gene overexpression in the 14q distal.
Finally we would like to learn to obtain neuronal cells from pluripotent stem cells obtained from nucleated blood cells. Our scope is to test in vitro drugs able to weaken or cure epilepsy. However the problem is very complicated because first of all we would need to understand what kind of neurones we should use, then how to identify the pathology at a cellular level and how we could realize that the pathology improves under the effect of a certain drug. In summary, finding the genetic/epigenetic cause leading to epilepsy is the first step toward the planning of a personalized medicine.
Torna in alto