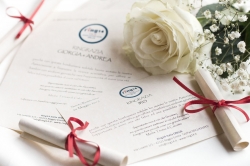 RING14 PARTY FAVOURS
Make your party favours solidary
Make one of the most important moments of your life a special event. Choose to share the joy with your loved ones, giving research and our children a better future. At baptisms, weddings, communions, confirmations, graduations or any other event celebrated with Ring14 party favours.

Offer a free contribution, minimum of 1 € for wedding favours, and help scientific research into rare syndromes of chromosome 14.

Ordering our Ring14 party favours is very simple:
For information on Ring14 party favours call us on +39 0522 745047 and ask for Alessandra Vighi or write an email to info@ring14.org with the subject: solidarity party favours".

Specific in the text your information (name of celebrate, date of the event), the amount and delivery due date.
You will be contacted immediately to determine all the details and customizations.

They will be sent by mail or courier, depending on your needs. Shipping costs are at your expense. The cost of shipping by mail or courier varies according to weight. You will be sent an email with all these details upon ordering.
Torna in alto