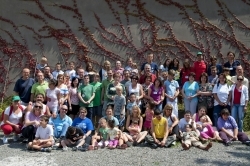 WHO IS RING14?
The International Association Ring 14 born as a non profit organization in Reggio Emilia on May 2002, by the initiative of a group of families with children affected by a rare genetic disease, caused by disorders of the Chromosome 14, to the present day this is the only association in the world coping with this pathologies.
The challenge to face is specifically about the fact that this is an unknown disease:families of these children and their doctors have few instruments right now at their disposal to obtain a full and comprehensive clinical picture on all the possible symptoms of these pathologies and on most suitable therapies to cure them. The diagnosis unfortunately is not an accomplishment, but a beginning.
OUR MISSION
To divulge the knowledge of the disease among physicians, especially geneticists and pediatricians; therefore, families can obtain a correct diagnosis as soon as possible and be put in touch with the Association
To push the scientific research in clinical, genetic, pharmacological and rehabilitative fields, financing research projects and enhancing their own biological and clinical database, unique in the world.
To offer a support to families having some component affected by serious disabilities: to assist them during the hard moment of diagnosis, in their relationships with youth workers, speech therapists, teachers, physicians. To project interventions aimed to the whole family wellness.
OUR VALORS
Dedication: We are non profit workers, but we're inspired by the small sized companies' model for the seriousness and professionalism with which we daily took care of our precious resources. This is not an easy challenge, but we believe that to never betray the quality of our interventions can be the most suitable compass to plot the course.
Sustain: The thing that moved, moves and will always move the Association in the future: the will to alleviate the suffering of children and families hit by a serious, unexpected and devastating disease. This is the powerful engine that inspires staff and volunteers of Ring14.
Future: We have the ambition to write the history of this disease, dreaming that, in the future, the diagnosis could be made as early as possible and that it will be possible to discover effective therapies. We dream that the group of families could be wider and stronger, ready to be helpful and sustaining. We have the ambition to stimulate the grass roots in the path of comprehension and to be a valuable resource to the families hit by serious disabilities.
Torna in alto