Charity shopping
"the child with the ring"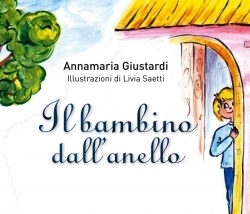 "THE CHILD WITH THE RING"
Transforming disability into integration
"The Child with the Ring" is a fairy tale available in Italian and English written by Annamaria Giustardi, which is a valid educational tool for teaching integration and diversity. "The Child with the Ring" is a fantastic story that treats reality like all fairy tales, as seen in the introduction where every event is resolved because everything is possible. We fear what we don't know. Learning about a disease through the feelings of those who know it, learning how to accept it without fear is the moral of the story. The iron ring, a metaphor of all disabilities, has no power over solidarity and understanding."

The book contains a teaching appendix that suggests valuable hints for the development of a process of inclusive education. In addition, there is a narration CD in two languages (Italian / English).

How to purchase the book:
There is no cover price printed on the book but, given that the proceeds will help Ring14 finance several scientific and social research projects, we are asking for an open offer starting from a minimum of € 5.00/book + Shipping.

The book is on sale worldwide. For information call us at +39 0522 745047 and ask for Alessandra Vighi or write to info@ring14.org

You can order the book from all over the world. It will be sent by mail or courier depending on your needs. Shipping costs are at your expense. Shipping cost varies according to weight. You will be sent an email with all these details upon ordering.
You can buy it also online in the followings shops:
iBookstore ITA
iBookstore ENG
Streetlib Store ITA
Streetlib Store ENG
Google Play ENG
Google Play ITA
Amazon ITA
AMAZON FR
AMAZON UK
AMAZON USA
AMAZON GER
AMAZON SP
Torna in alto